April 16, 2020 - Jamie Schneider
What is a scalp scrub, and why do you need it?
You tend to know when your skin needs some exfoliation—perhaps it's rough to the touch, or you're experiencing some clogged pores. While most of us pay significantly less attention to our scalps than we do our facial skin, remember your scalp is your skin. And you may need to remove some debris, even if you can't see it building up as you would a cluster of blackheads on your nose. And just like for your face, there are two different types of scalp exfoliants: There are your physical scrubs, with granules (like sugar and salt) to physically exfoliate the skin and remove buildup. Then there are your chemical formulas, which use naturally exfoliating acids and enzymes to dissolve dead skin cells. 
Not one type of scrub is inherently better than the other, but you may choose your product based on your scalp and hair type. For instance, thick hair and oily scalps may gravitate toward a physical scrub, while sensitive scalps and finer strands may be better off with a gentle, chemical exfoliant from time to time. "You know your face better than anybody—how sensitive your skin is, how often you can do a peel, or how often you can exfoliate," says trichologist and hairstylist Shab Reslan. "You have to be just as conscious when it comes to your scalp." 
No matter the scrub, it's vital we exfoliate regularly: When you have buildup on your scalp—think oil, leftover product, and overall gunk—it can lead to issues like scalp inflammation, flaking, even hair loss: "If buildup is really extreme, it can even pull the hair down because there's so much inflammation around the hair follicle," says board-certified dermatologist and founder of Mudgil Dermatology Adarsh Vijay Mudgil, M.D.
So whether you shampoo on the regular or stick to a once-a-week wash cycle, you might want to add a scalp scrub to your repertoire. Here are 11 of our favorites, both chemical and physical, so you can test the waters. 
Drunk Elephant T.L.C. Happi Scalp Scrub
A hybrid of sorts, this scrub contains an AHA/BHA acid blend to lift up oil and debris while cellulose acetate beads physically scrub gunk away. Gentle yet effective, this scrub has a name that gets it just right—your scalp will enjoy the much-needed TLC as you lather up.
T.L.C. Happi Scalp Scrub, Drunk Elephant ($36)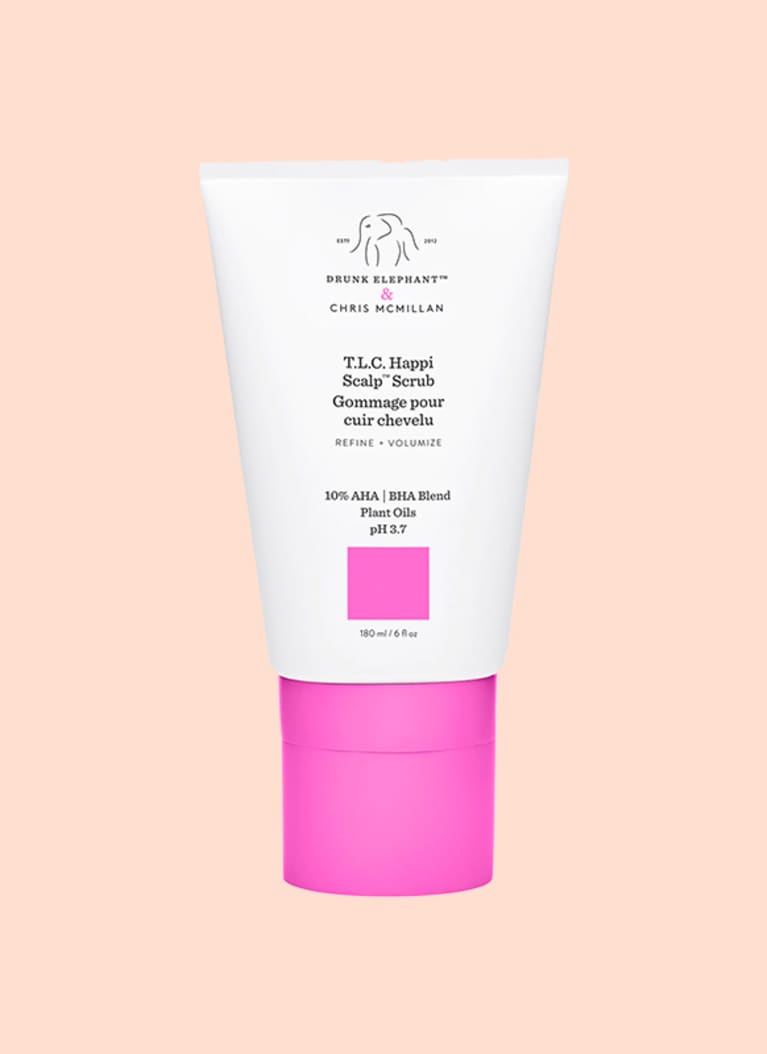 BRIOGEO Scalp Revival Charcoal + Tea Tree Scalp Treatment
For this exfoliant, charcoal draws dirt and oil from the hair follicles, while the peppermint and spearmint oils offer a cooling effect to alleviate any signs of scalp inflammation you've got. It also features biotin (you know, that superstar B vitamin for strong, healthy hair and nails?). Just apply one to two drops to each section of your scalp, massage it in, and let the treatment work its magic. 
Scalp Revival Charcoal + Tea Tree Scalp Treatment, BRIOGEO ($32)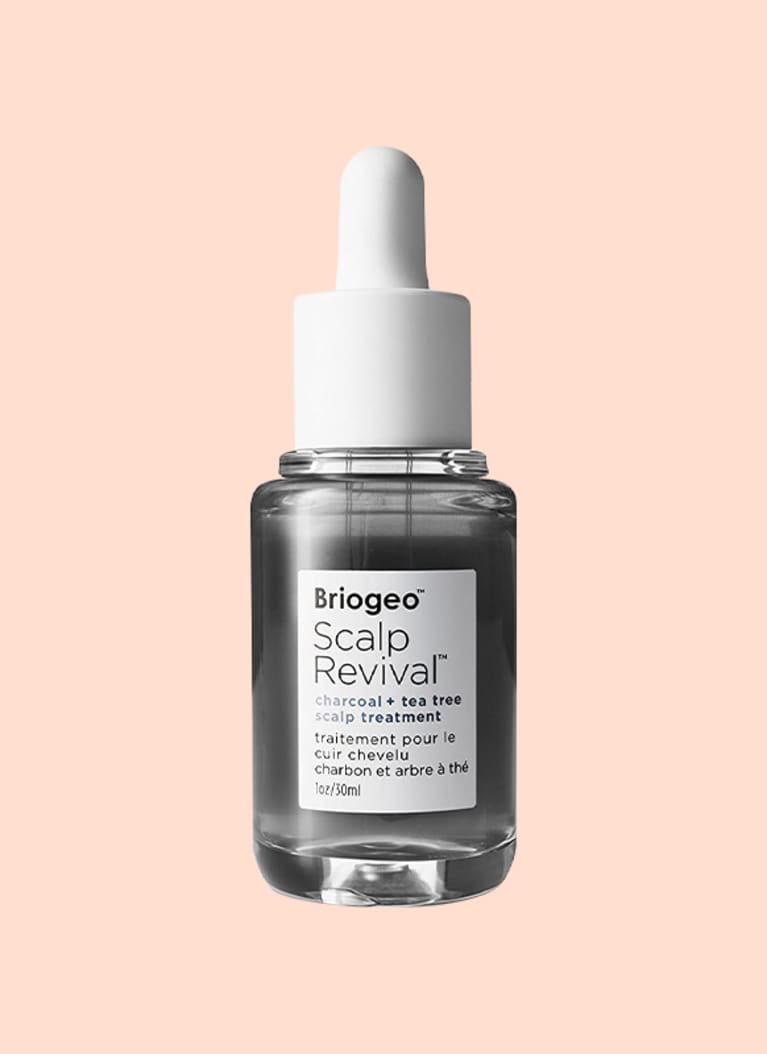 PLAYA California Salt Scalp Scrub Shampoo
Here's your familiar salt scrub: While the main ingredients are minimal (just California sea salt and tea tree oil), the result is anything but; think shiny hair and a smooth, flake-free scalp.
California Salt Scalp Scrub Shampoo, PLAYA ($38)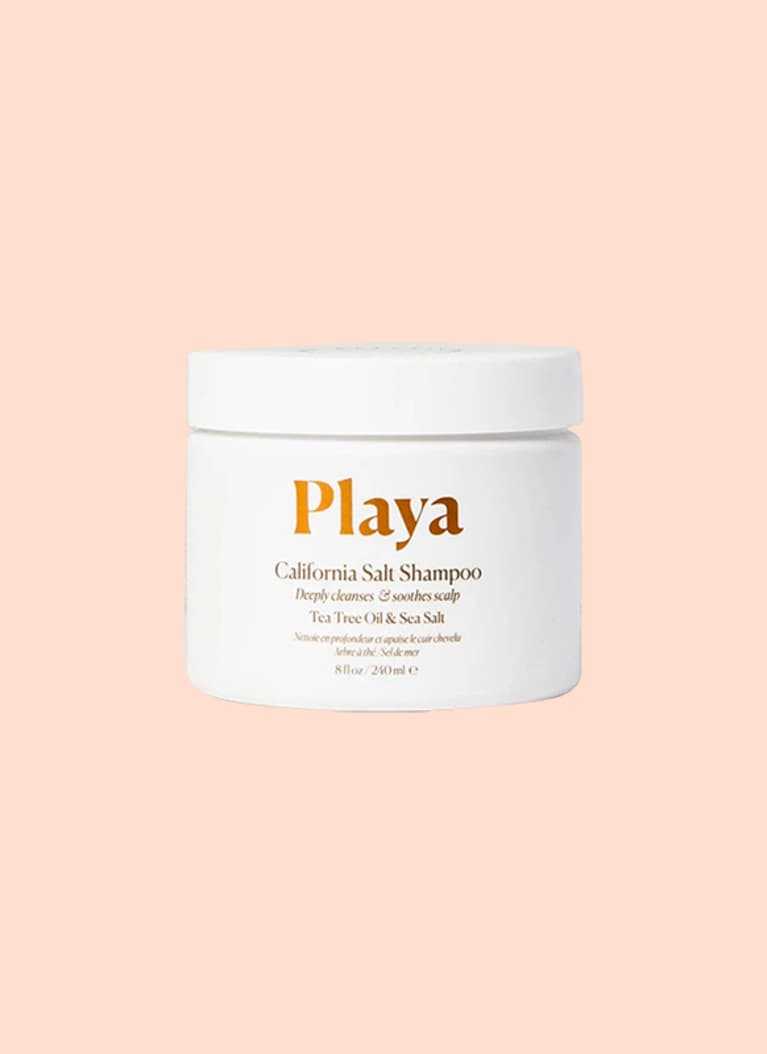 Prose Pre-Shampoo Scalp Mask
Super-sensitive scalp? Facing some flakes? Consider this scalp treatment your personal go-to. After a series of questions, Prose will formulate a custom scalp mask tailored to your hair type, lifestyle, and environment (hello, humidity!). Your formula might feature jojoba beads for gentle exfoliation or kale extract for sebum control. Here, the ball is in your court. 
Pre-Shampoo Scalp Mask, Prose ($38)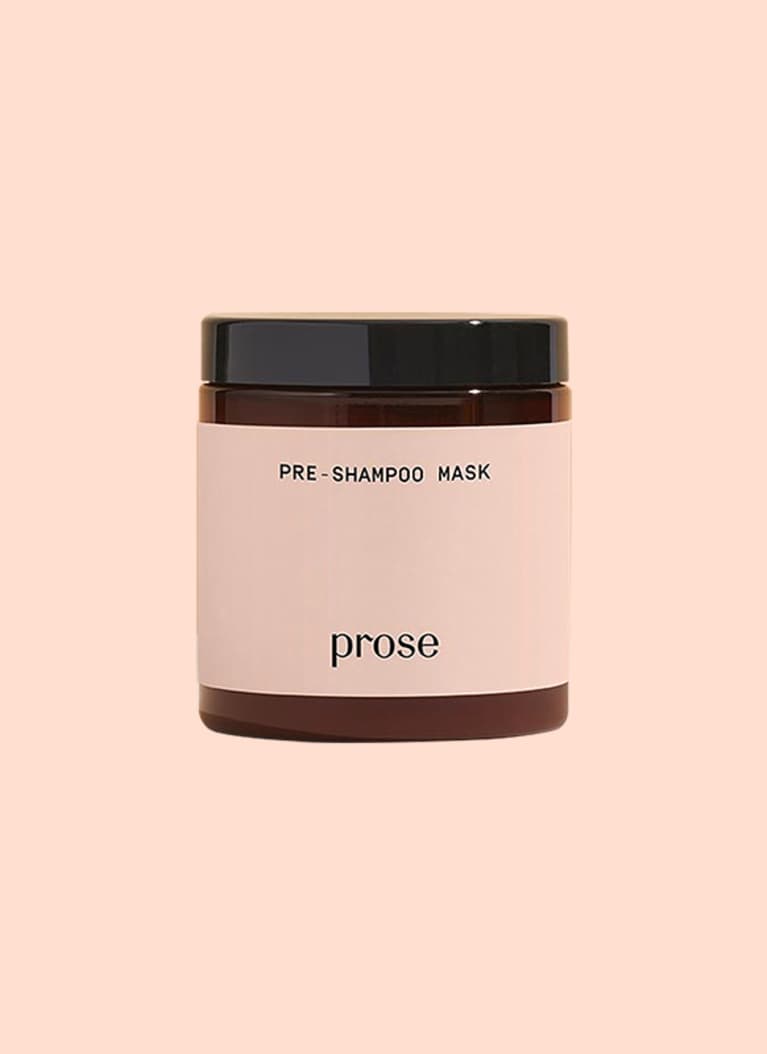 Cuvée Beauty Champagne-Infused Sugar Scalp Scrub
Feeling fancy? Try Cuvée's champagne- and truffle-infused sugar scalp scrub—this dreamy blend also features salicylic acid, known for dissolving dead skin cells and oil buildup. (It also smells amazing, making Cuvée an office favorite.)
Champagne-Infused Sugar Scalp Scrub, Cuvée Beauty ($45)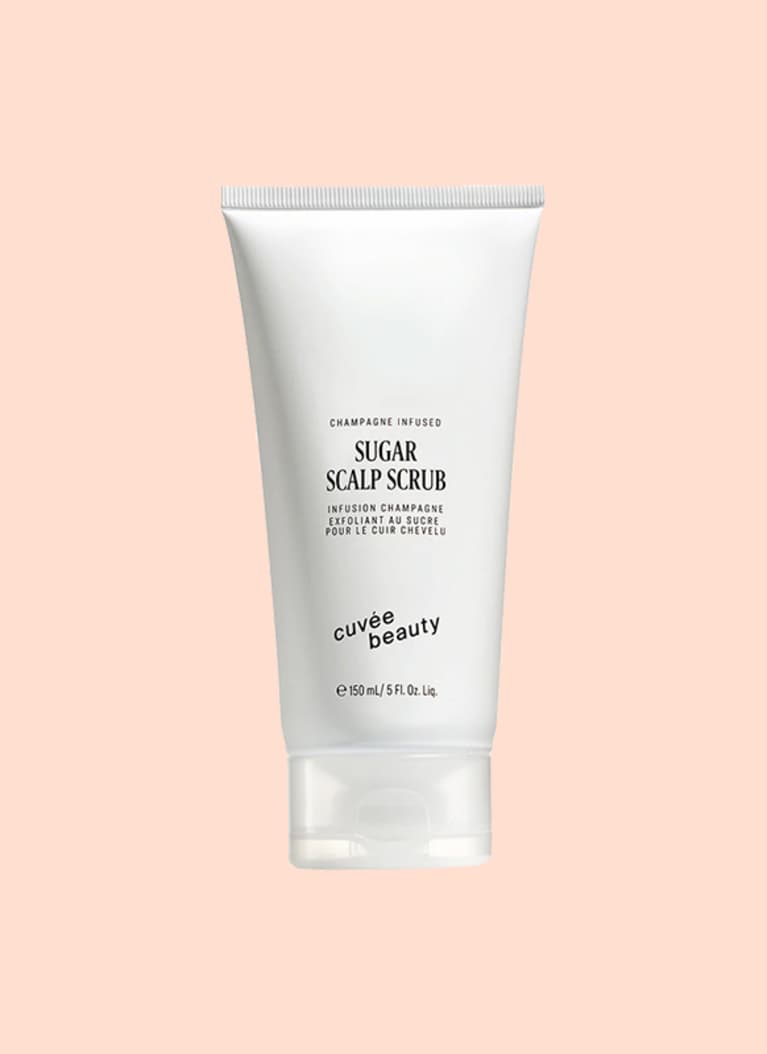 IGK Low Key Cleansing Walnut Scalp Scrub
This physical scrub is super gentle (it uses sugar instead of salt) and features one of our favorite do-it-all ingredients: apple cider vinegar. The ACV clarifies the scalp (it also balances the hair's pH), while walnut oil simultaneously works to soothe. Add some cooling peppermint oil into the mix and you've got yourself a happy scalp. 
Low Key Cleansing Walnut Scalp Scrub, IGK ($36)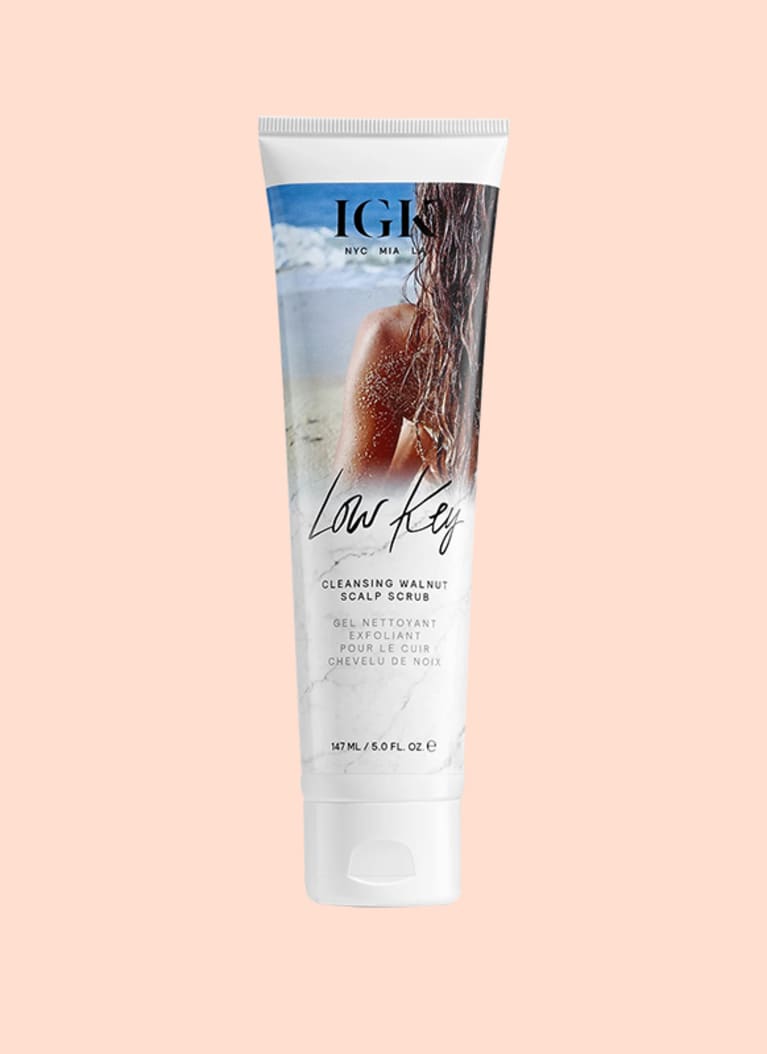 UKA Scalp Cleansing Deep & Light
Deep and light may sound a little counterproductive, but there's no better way to describe this airy scalp cleanser—it's lightweight enough for those with sensitive skin, but it doesn't skimp on efficacy; the coenzymes and amino acids in this formula wash away flakes and penetrate your pores to remove buildup. All without stripping the skin and giving you that squeaky clean feeling. 
Scalp Cleansing Deep & Light, UKA ($36)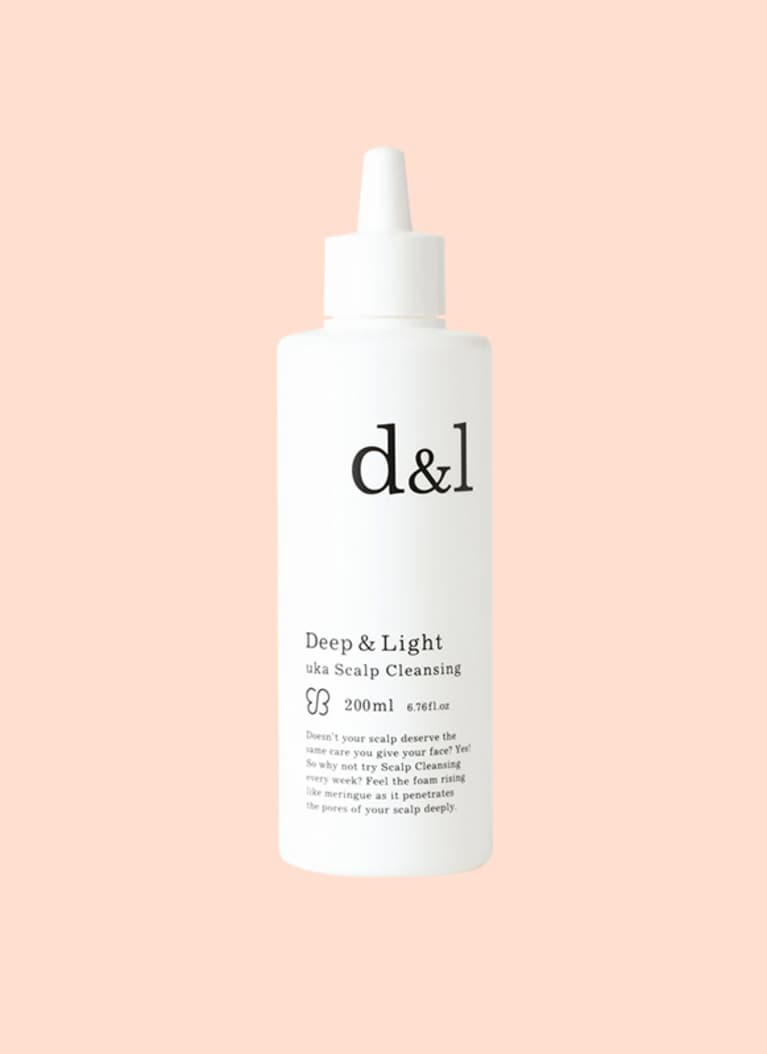 Love Beauty and Planet Delightful Detox Charcoal Shampoo Scrub
Infused with bamboo charcoal and coconut husk, this scrub exfoliates and hydrates, using naturally derived menthol for that cooling clean. It's also 91% naturally derived (meaning the ingredients remain unchanged from their natural source!), making this shampoo scrub a staple in your shower. Just use in place of shampoo once a week—you'll practically feel your pores hydrate.  
Delightful Detox Charcoal Shampoo Scrub, Love Beauty and Planet ($6.99)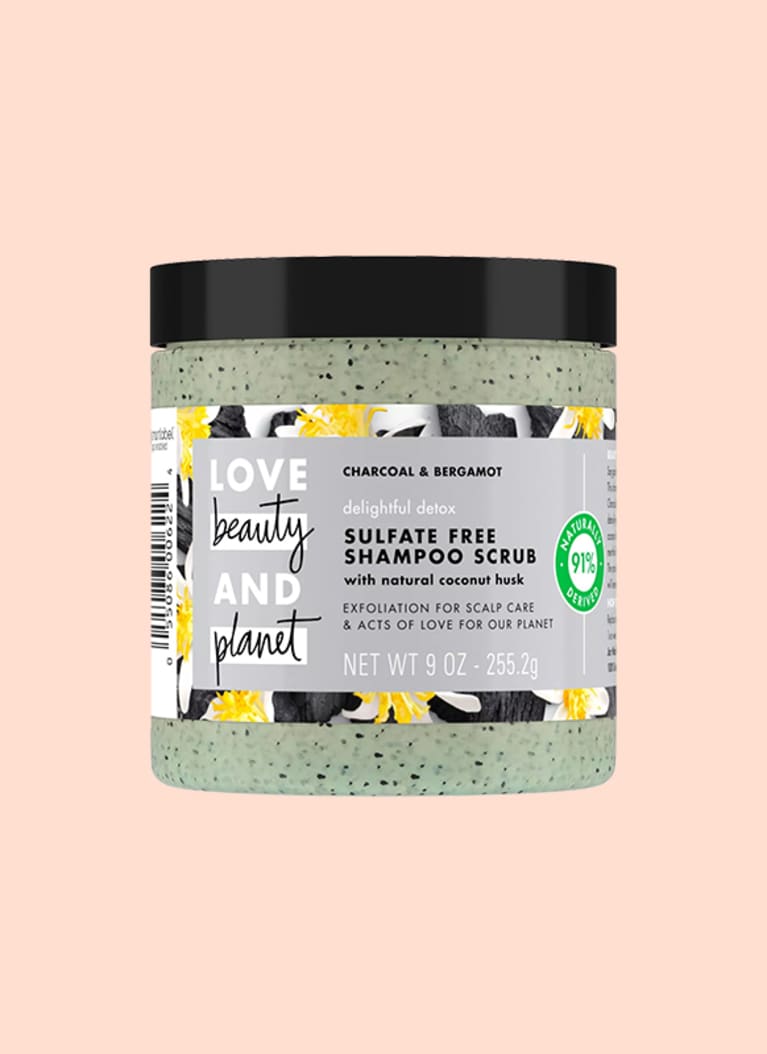 Aveda Pramāsana Purifying Scalp Cleanser
Pollution-induced hair loss is a thing (yes, even indoors!), but this scalp cleanser has you covered. Tamanu oil, an antioxidant known for protecting against pollution and free radicals, works in tandem with seaweed extract and Lactobacillus probiotics to enhance the skin microbiome and control sebum levels. 
Pramāsana Purifying Scalp Cleanser, Aveda ($36)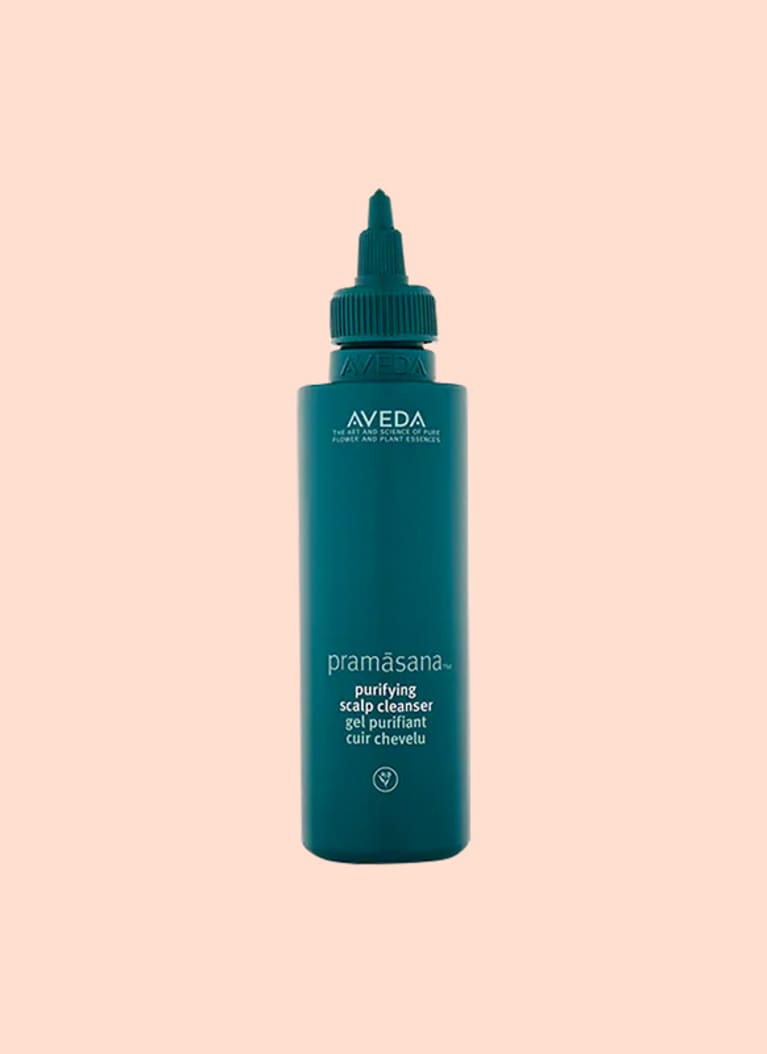 SheaMoisture African Black Soap Bamboo Charcoal Pre-Shampoo Scalp Scrub
African black soap is the star ingredient of this scrub, which contains a trifecta of plantain, cocoa pods, and palm tree oil to lift up excess oil and flaky buildup. The brand infuses their quintessential organic shea butter blend to make sure the formula is super hydrating. (African black soap on its own can be a bit drying.)
African Black Soap Bamboo Charcoal Pre-Shampoo Scalp Scrub, SheaMoisture ($11.99)
Act+Acre Cold Processed® Scalp Detox
There's a reason this scalp treatment remains a coveted cult favorite. Basil leaf helps draw out impurities while a nourishing blend of oils (including ingredient-of-the-moment squalene) helps lock in moisture. With its woodsy scent, you'll have a hint of cedar and sandalwood every time you run your fingers through your hair.
Cold Processed Scalp Detox, Act+Acre ($42)